The Orange Pig Home Page
Welcome. I am the Orange Pig, and you are currently treading on sacred ground!
<![if !vml]>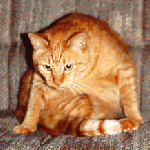 <![endif]>
Here is a picture of me! As you can see, I'm incredibly gorgeous!!
(For all you babes out there, my e-mail address is below.)
Updated! March 28, 1999.
I now have 6 more pictures. See them here!!!!!!!!!!
You are the 2,456,782 person to visit my page!
Lucky, lucky you!
All right, all you babes can send your love mail to:
This page created on Sunday, March 29, 1999.